Booking your delivery slot
How it Works
When you place an order with us, your order is processed and placed in a queue waiting for the products you've ordered to be allocated to you on a first come, first served basis.
Depending on availability and seasonal demand, this may be up to a few days. If the item is out of stock and our 7-14 days is likely to be exceeded, we will contact you.
It is possible to have a delivery slot available within a couple of days, but you can also choose your preferred delivery day depending on availability.
In really busy peak periods, such as the onset of summer or good weather, the availability of delivery dates may be limited.
Once the product that you have ordered is allocated to you, you will be contacted by SMS text or phone call for you to book your delivery slot.
(Please note: If you have not provided us with a mobile telephone number, you will be contacted by landline to arrange your delivery date.)
The text will have a tracking link for you to follow. This will take you to the Forest Garden tracking page.
You will also be able to track your order from here. Tracking is only available once your order has been allocated.
Please note that delivery addresses cannot be altered after orders have been dispatched.
This is what you will see:
1.1 Enter your Wonkee Donkee order number. This will take the form of WD/123456/D and can be found on the SMS text or email sent to you with the tracking link.
1.2 Enter your delivery post code. Please note that this will be as you entered it at the time of ordering, so may or may not include spaces. Check your order confirmation if you are unsure.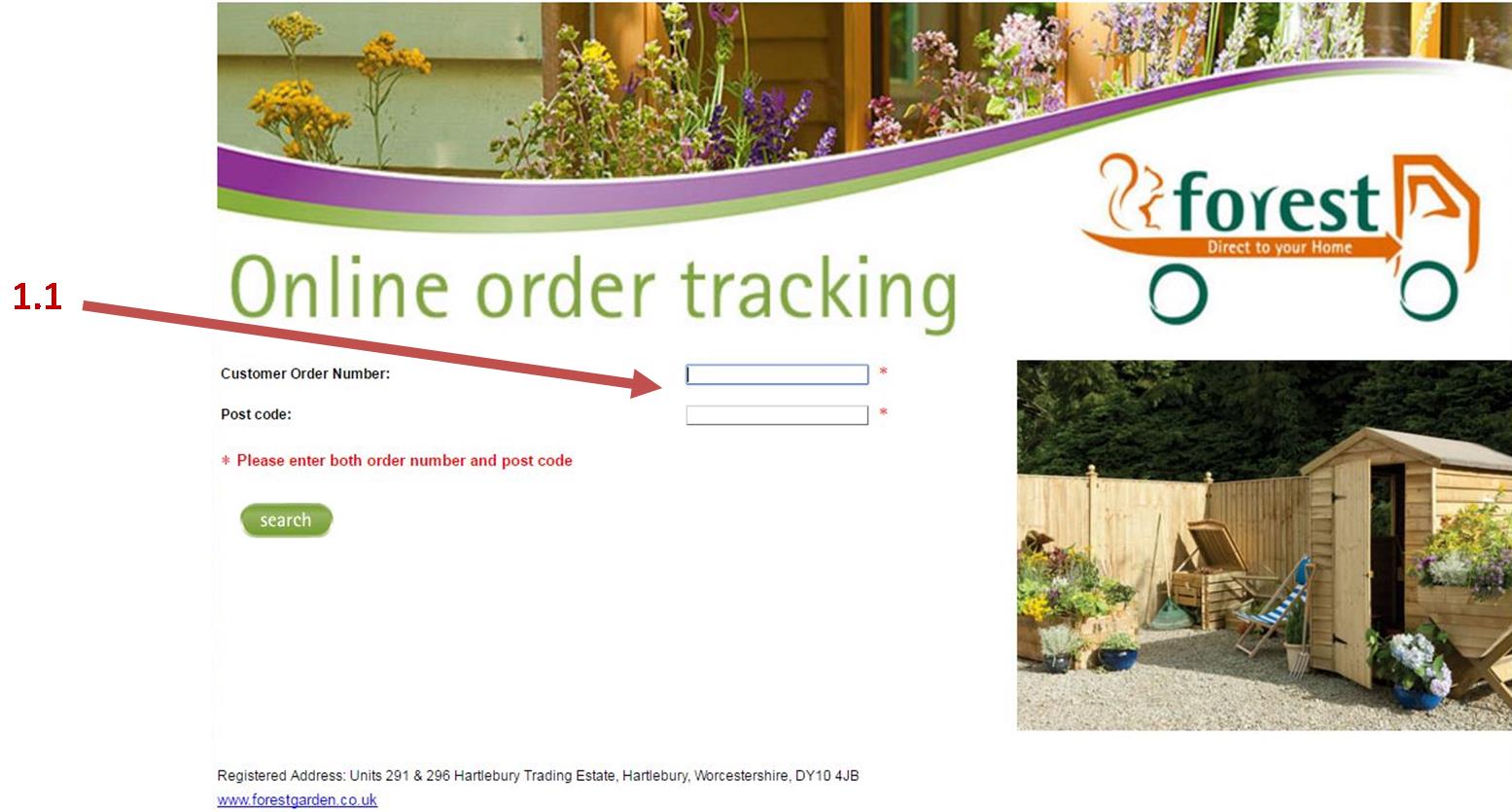 ---
2.1 Click on the

button.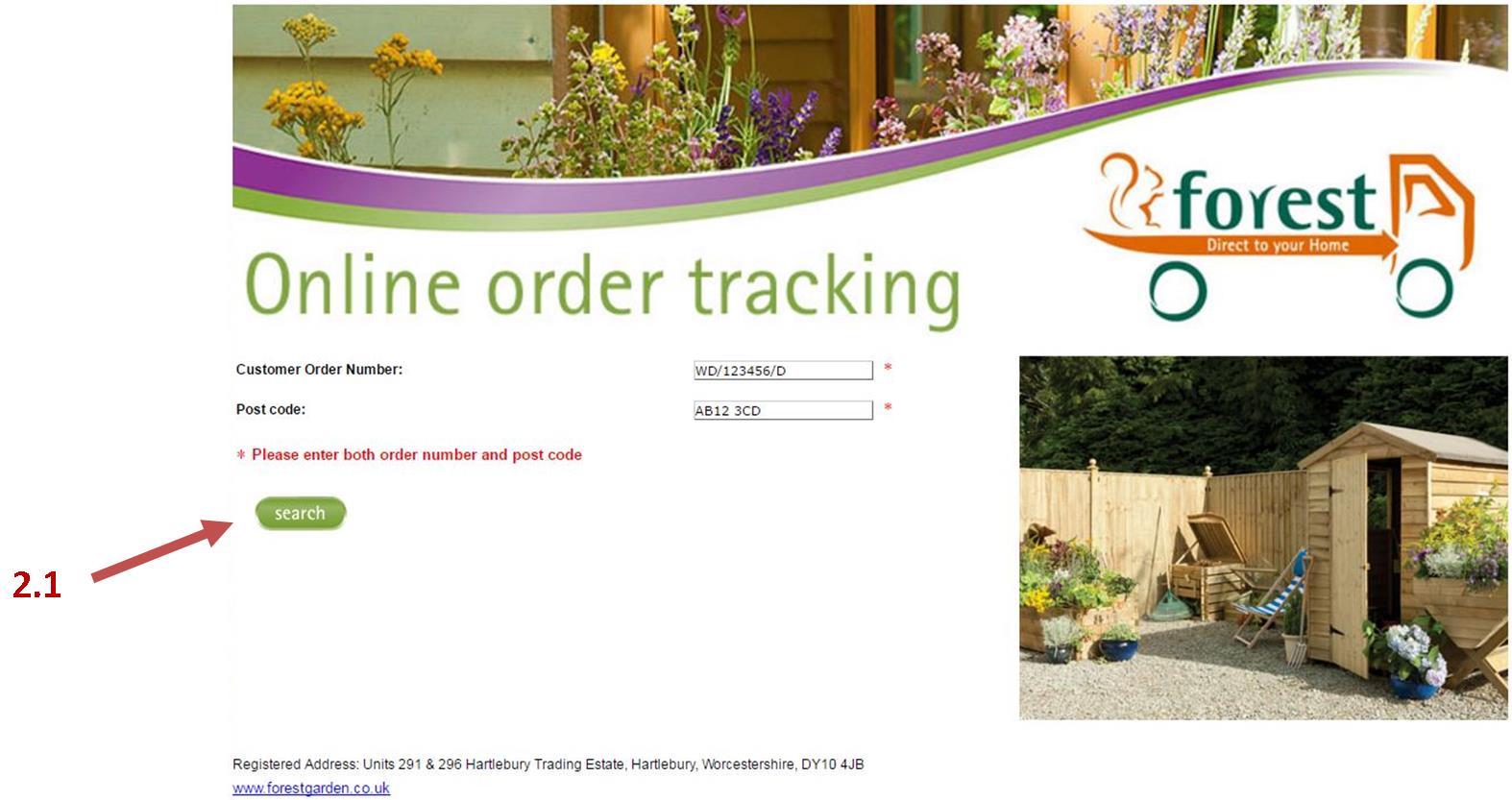 ---
3.1 If we cannot find your order, it may be that you have entered your details incorrectly, or that a product has not yet been allocated to you.
3.2 Please check your Customer Order Number and postcode. Try your postcode with and without a space.
If you haven't yet received an email or text, please wait to hear from us before attempting to log-in. If you are still experiencing difficulties, please call Forest Garden on 0333 321 3142. Opening hours are Mon-Fri 8.30am - 5.00pm. Thank you.
.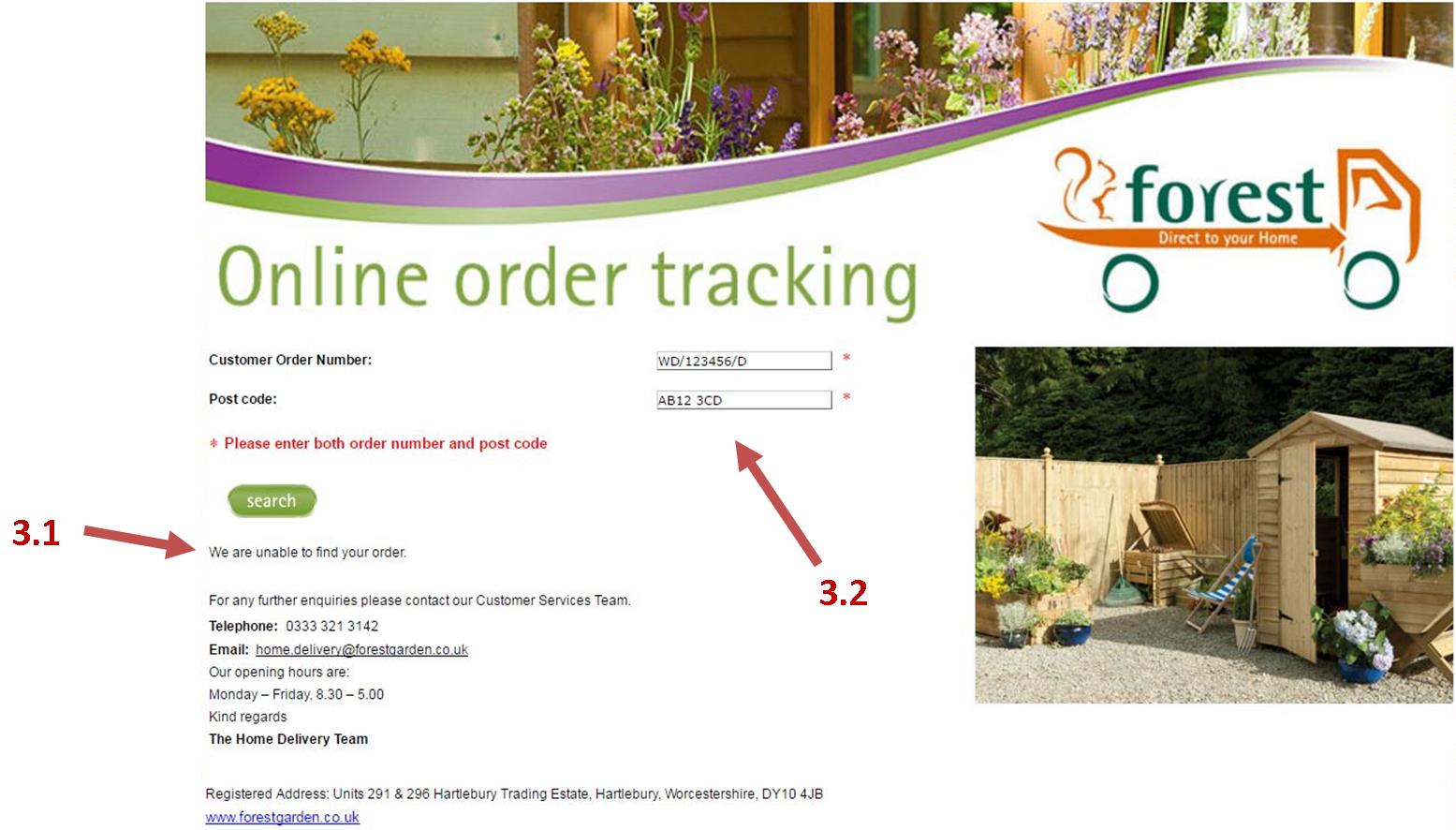 ---
4.1 You should be greeted with a welcome message confirming your order. Check that this is your order before proceeding.
4.2 Click here to book your delivery date.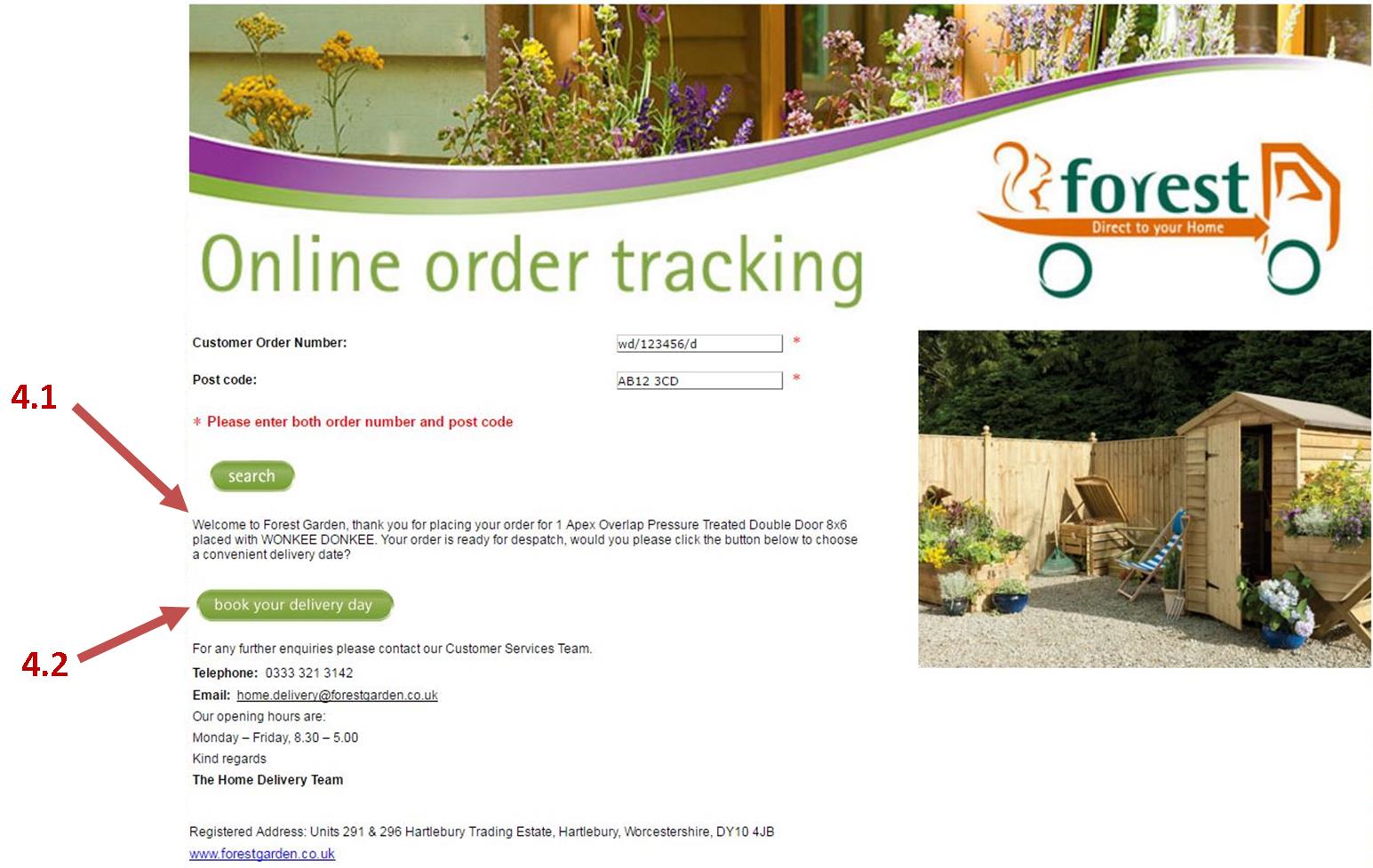 ---
5.1 Please confirm your email address here.
5.2 You will be presented with a calendar. Click on the date that is convenient to you. Only green and amber coloured dates are available to you. Amber dates cannot be guaranteed so act quickly to have a better chance of securing.
5.3 You will notice that only certain days will be available to you. Different post code areas are delivered to on different days.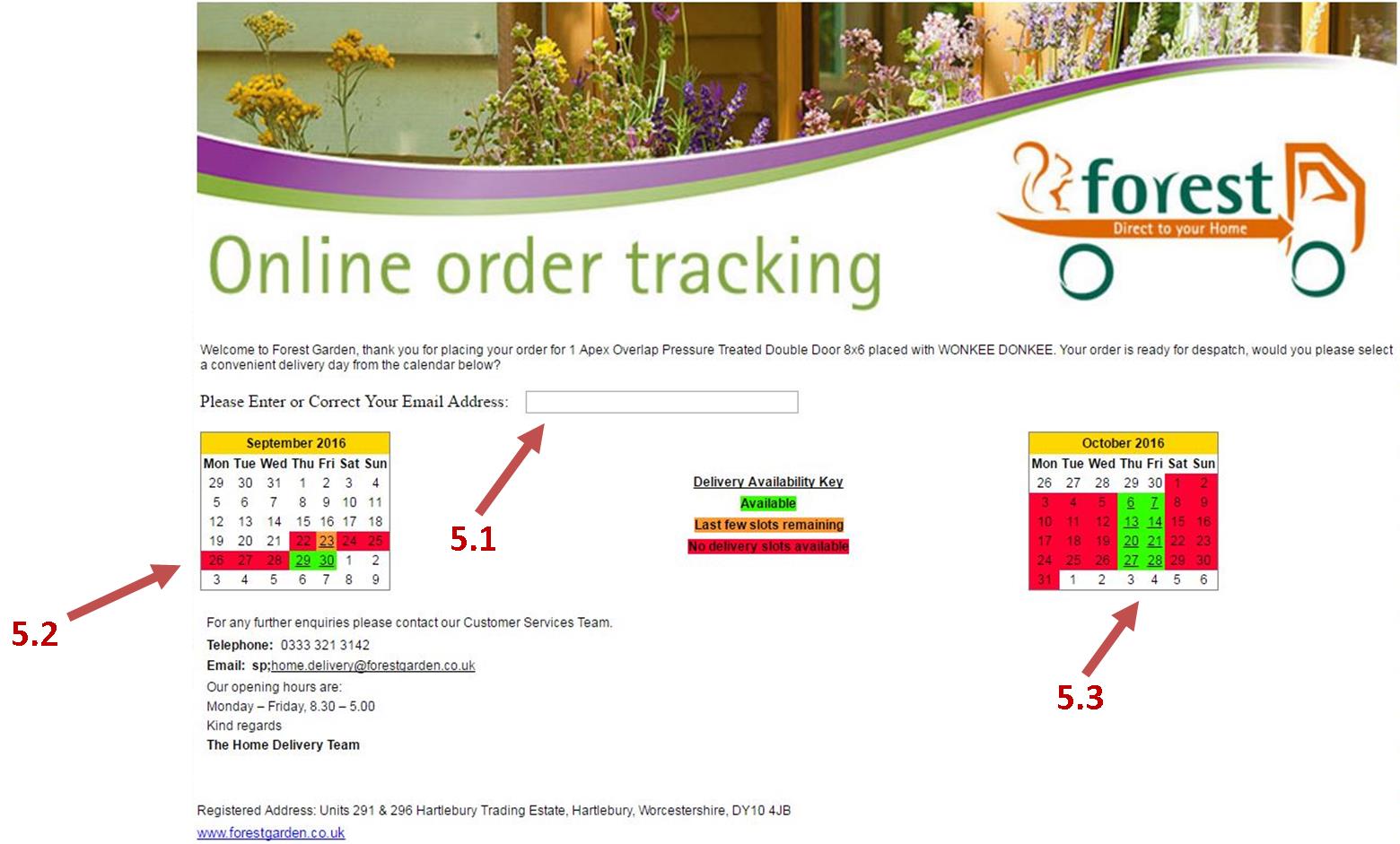 ---
6.1 Check that your delivery date is correct before proceeding.
6.2 Click the Yes button to confirm.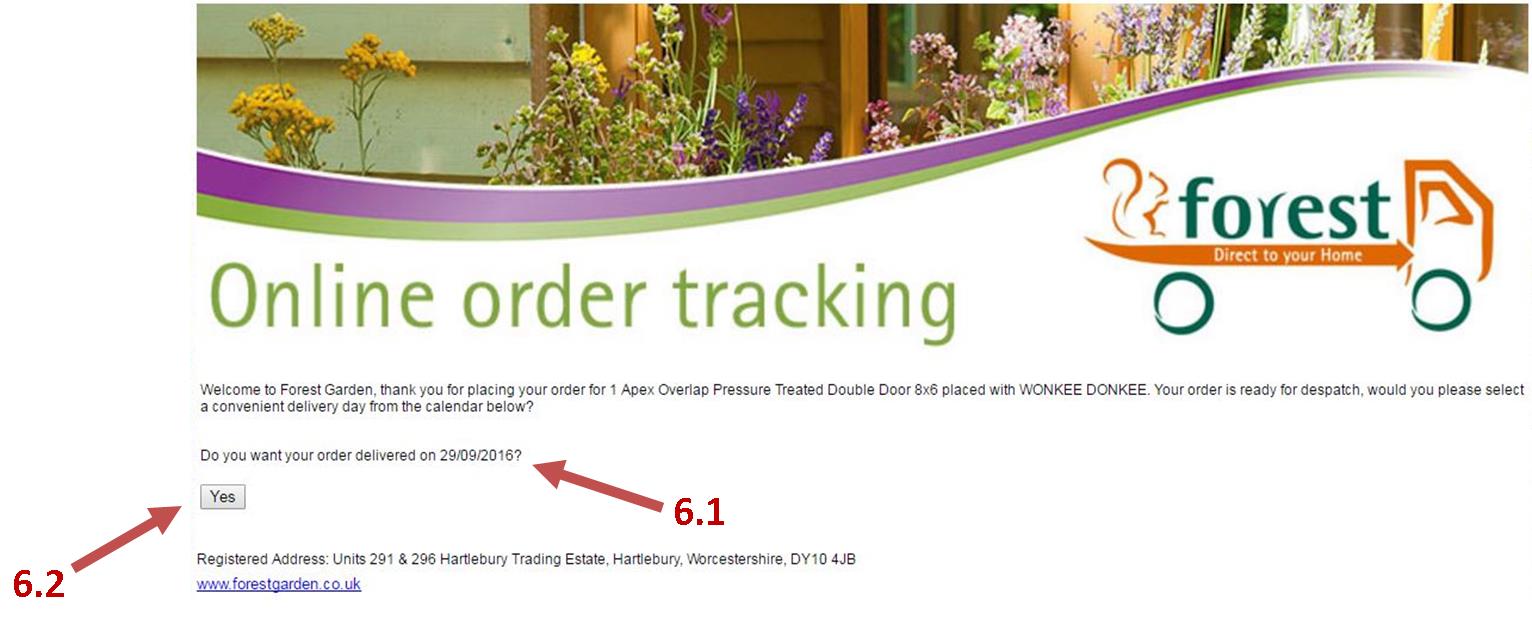 ---
7.1 If you have access issues, please ensure that you click the YES button here, and give details of the restricted access issues. Even if you're unsure, please click the YES button anyway and explain why. This is to ensure that a suitable wagon is used for your delivery.
7.2 Click the NO button only if you have full access.
Examples of restricted access: Narrow road, sharp bend, low bridge, unsuitable road surface, overhead cables, no through road, parked cars and other obstructions. Please note: Kerbside drop off only.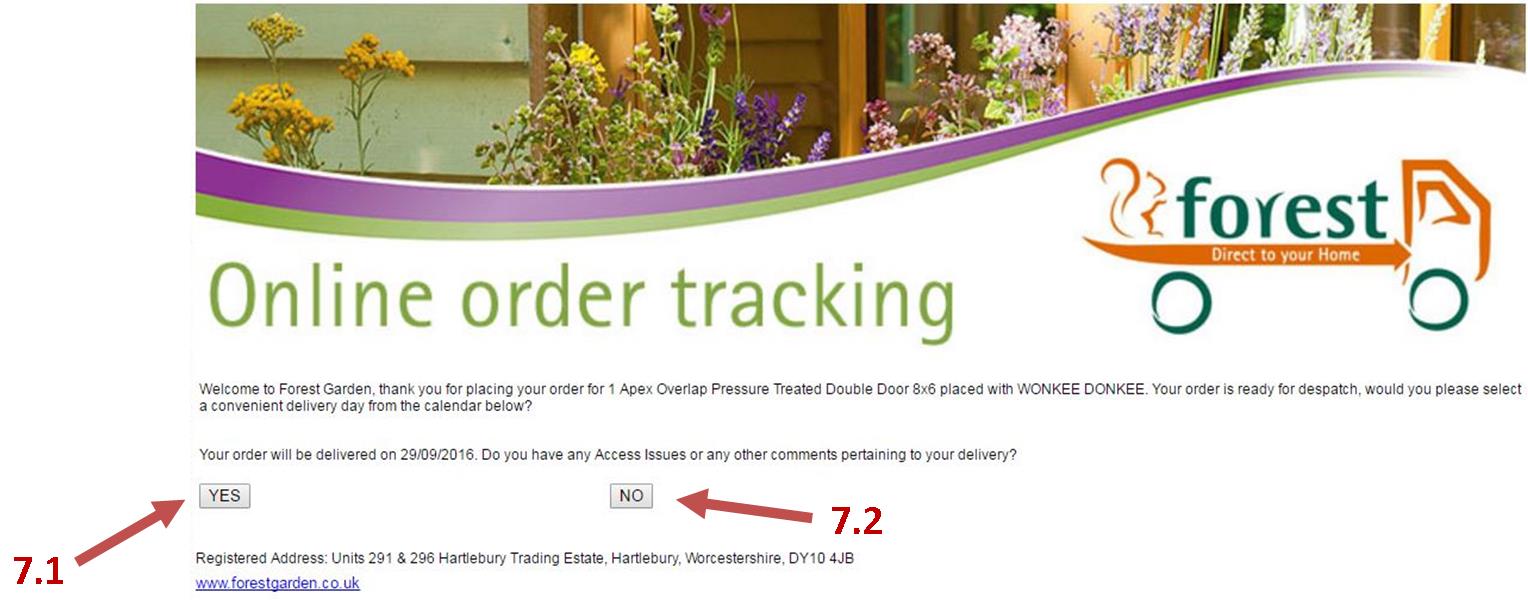 ---
8.1 Final confirmation of your order delivery date.
You can request to change the delivery date by logging back into the Online Order Tracking web page or by calling Forest Garden on 0333 321 3142 Mon - Fri, 0830 - 1700hrs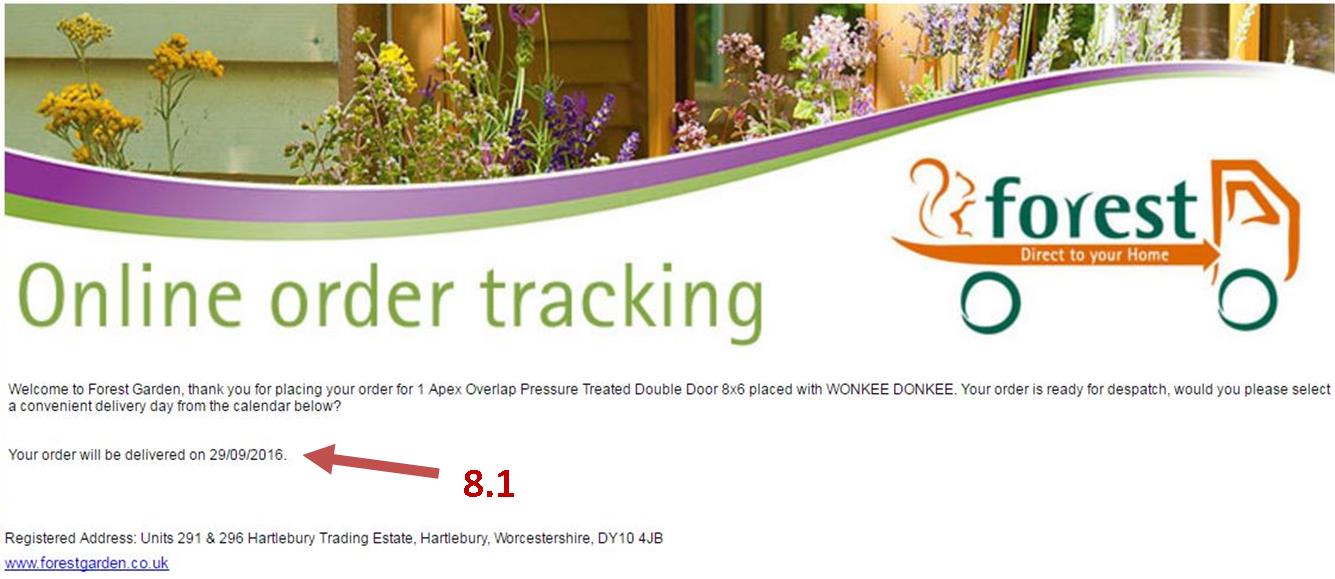 ---
9.0 If you need to check which day has been scheduled for your delivery, simply go to the Forest Garden tracking page and re-enter both your order number and post code.
Click on the

button to see your order and delivery details.